Memorial Day is more than picnics, fireworks and the start to summer. It is also a great time to talk with your child about values such as patriotism and sacrifice behind all the festivities. Here are some kid-friendly ways to celebrate the fun, and meaning, of Memorial Day.1) Flag Ceremony. With your child, draw a picture of the flag and hold a small ceremony as you hang it on your front door. Say the Pledge of Allegiance and sing a patriotic song, such as the national anthem (The Star Spangled Banner), or My Country 'Tis of Thee. 2) Attend a Parade.  If you cannot find a parade near you,...
---
• Awards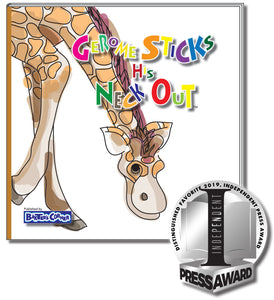 Gerome Sticks His Neck Out Stands Out in Two Categories: Children's Inspirational/Motivational and Picture Book - PreSchool The Independent Press Awards® has presented Baxter's Corner's® book, Gerome Sticks His Neck Out, with two Distinguished Favorite recognitions in the categories of Children's Inspirational/Motivational and Picture Book – Pre-School.  "We are thrilled to earn these distinctions," said Gerome Sticks His Neck Out author L.S.V. Baker. "This is further validation of our mission to create magical stories that are meaningful so that we help shape the character and values of young children." Baxter's Corner books are illustrated by M.E.B. Stottmann. In Gerome Sticks...
---
Dinner is over, the flowers are in a vase and all of the presents have been opened. Baxter's Corner suggests that this is a great time to plan a special "Mother's Day Story Time" to read with your children, grandchildren and special friends. Baxter's Corner books are developed to teach children positive social behaviors one story at a time. For Mother's Day, you might choose Oakley in Knots. Oakley is a confused little octopus with a terrific story to tell that will help your children develop important social skills such as empathy, responsibility, resilience and relationship building. Oakley is just...
---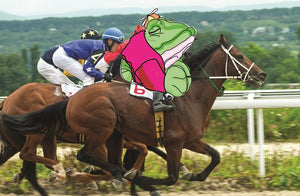 Fred the Frog is ahead by a nose! Learn more about Fred in Sideways Fred.Happy Derby Week from Baxter's Corner, headquartered in Louisville, Ky., home of the Kentucky Derby. In the spirit of the season, Fred the Frog has decided to hop onto a thoroughbred to test his racing skills. The 145th running of the Derby will be Saturday, May 4th, at historic Churchill Downs.
---
• Mission

Happy World Civility Day! In this current culture of intolerance and social toxicity, we are encouraged to see that April 11th has been designated World Civility Day. We want to help make sure that everyone is aware of this opportunity in the hopes that they will participate in some small way. We believe that diligence in shaping the character and values of young children will go a long way toward refuting such unfortunate behaviors as bullying, disrespect, and even physical violence.  We created our books in response to the uncivil behavior we are seeing right here in our own community;...