• Awards
Six Baxter's Corner® Books Recognized in School Issues Category of  2019 Purple Dragonfly Book Awards presented by Story Monsters Ink         Baxter's Corner, a business that uses creativity and storytelling to affect positive behavioral choices for young children, is pleased to announce that all six of the company's Collection I books have received 2019 Purple Dragonfly Book Awards presented by Story Monsters Ink, a digital magazine that focuses on young children's education and related issues.        Two Baxter's Corner titles, Ally Alone and Sideways Fred, tied for First Place in the category of School Issues. Four Baxter's...
---
• Awards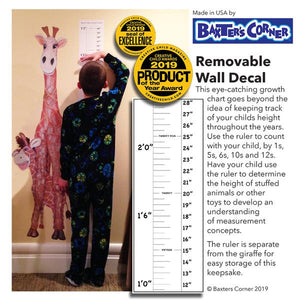 Creative Child Magazine has presented two of its seals of achievement and desirability to Baxter's Corner®. The Gerome Sticks His Neck Out Grow Chart Wall Decal has received the Creative Child Product of the Year Award in the category of Kid's Room Décor, and the Creative Child Seal of Excellence Award in the category of Keepsake Products.            The Gerome Grow Chart Wall Decal is a removeable piece of art that includes a 25"x55" picture of Gerome the Giraffe and a height chart designed to keep track of a family's growing children....
---
A special camp is helping kids be creative. For the 6th summer, Baxter's Corner author, Linda Baker, and illlustrator, Mary Ellen Stottmann are leading a young author's camp at Cabbage Patch Settlement House. Watch a WLKY-TV news story about the camp.
---
For the 6th summer, Baxter's Corner author, Linda Baker, and illustrator, Mary Ellen Stottmann, are leading a week-long Young Author's Camp for at-risk youth at the Cabbage Patch Settlement House in Louisville, Ky. Thirteen young authors will spend the week working together to develop an illustrated story that will be turned into a published booklet and distributed at a book signing party at the conclusion of the camp. "We are delighted to once again work with the talented and creative youth at Cabbage Patch," said Mary Ellen Stottmann, owner of Baxter's Corner, a Louisville-based company which publishes children's books.  
---
Teachers anticipate the start of summer vacation with as much enthusiasm as their students -- if not more! They know, however, that summer break can mean a slide in essential reading skills and other areas of learning.You can help your child build good reading habits and avoid a decline in reading skills with these fun and easy activities. Alphabet Safari  Turn each errand or outing into a quest! Very young children who are just learning the letters of the alphabet, will have fun searching for a specific letter on street signs, billboards and buildings while you are running errands.Focus on one...