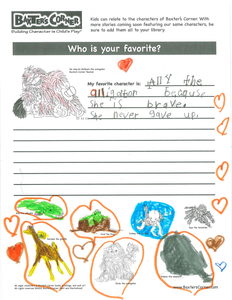 November 3, 2022 I read "Who's Who with Mr. McBoom' to a group of third graders today, and they loved it. When it was over, I had them complete the attached writing prompt. I am so excited about the results. The students wrote about bravery, family, and not giving up. It really highlights how much kids connect and relate to the characters of Baxter's Corner. I love how these books work! Stephanie L. Logsdon Reading Intervention Teacher & Author Shelby County Public Schools Marnel C. Moorman School Shelbyville, Kentucky Check out all our Show & Tell
---
View this email in your browser 50% Off Sale! New Year Sale! Happy New Year! We are welcoming 2022 with a BIG sale... All books and puppets are 50% OFF through January 10! Dear Customers,At Baxter's Corner, our mission is to develop emotionally healthy children through engaging stories and thought-provoking activities. Building character is child's play and we are that resource for you! We hope you will find our books supportive in big conversations with your child or student.  - Mary Ellen Stottmann, Chief Crayon   Copyright © 2022 Baxter's Corner, All rights reserved. Our mailing address is: playmaster@baxterscorner.com Want to change how...
---
• News
Dear Baxter's Community, In light of the recent COVID-19 news and the impact it's having on our schools, communities, and work spaces, we wanted to send out a friendly reminder to try and make the most of your time at home with your kids. We often forget during these uncertain and worrisome times that while you and your kids may feel stuck, you can use it as an opportunity to bond and pick up those books you've been waiting to read. Our hearts also go out to all of those affected by the virus and we hope you stay safe,...
---
Valentine's Day may be behind us, but we feel it's important to show and celebrate love every day vs. just one day! Our characters, Gerome the Giraffe and Tajo the Tarantula, are perfect examples of what it means to show compassion for others and how our differences can bring us together. It's important for children and students to understand that even the smallest act of love and kindness can forge the biggest transformations in our lives and the lives of others. For Gerome, it was his courage and kindness that changed his life to bring him his best friend, Tajo! Fun Giraffe Fact:...
---
It's a new year which means a new opportunity to start fresh and change for the better! Each and every one of the stories from our collection aims to inspire your child to do just that. Early childhood is a crucial time in which children have the opportunity to learn important values and develop positive social skills that can have an impact on them for the rest of their lives.  Reading our stories with your child is the perfect step towards achieving that! At the end of each story is a "Go Beyond" section with meaningful activities for you and...