• Mission
Today we recognize our very own Baxter's Corner customer, Lisa Hicklen. Lisa believes so strongly in our mission to help children develop social skills that promote positive social behavior that she has donated sets of our books to a variety of schools, churches, and community organizations that serve families--one of them being Christ Episcopal Church in Charlevoix, MI.  
---
Baxter's Corner is now offering a set of six softcover books, perfect for Holiday giving. Baxter's Corner stories illustrate life's lessons, helping children to build character around social skills, manners and fundamental values such as respect for authority, compassion and cooperation. The gift set of softcover books includes Ally Alone, Ellema Sneezes, Sideways Fred, Gerome Sticks His Neck Out, Oakley in Knots, and What a Tree It Will Be! and are available at www.baxterscorner.com for $76.25, a 15%discount off the regular retail price. Each Baxter's Corner book features a fun-filled Go Beyond section that provides an added experience, complete with...
---
October is National Stop Bullying Month, an important topic in schools today. While we always promote kindness in our books, we've pulled together five tips for talking to your kids about bullying. Explain bullying to your child. When kids can recognize bullying, they are better prepared to react safely to it. Talk about how to react. Help prepare them by teaching them to stay calm, to tell the person who is bullying others to stop, to walk away if needed, and to tell a trusted adult. Give your child frequent, safe opportunities to talk. You want your child to know they can...
---
• Events
Baxter's Corner representatives were part of the Magical World of Literacy at the 2019 Kentucky Reading Conference held in Louisville, Ky., September 26-28. Company founder Mary Ellen Stottmann met with participants and shared information about the company's mission to share stories with easy lessons about values and what it means to be a good human being. Linda Villwock Baker, a Baxter's Corner author with her seventh book, Why Stop for Tajo? to be released next month, participated in an Author's Panel at the conference. Stephanie Logsdon, a Baxter's Corner author, presented a session on how to Motivate Reluctant Readers. Her...
---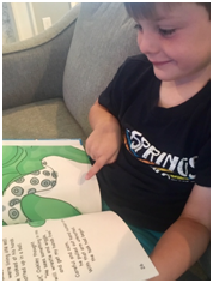 Heading back to school is an exciting time, but it can also be a source of anxiety and stress. Here are a few tips to help make sure your child is back-to-school ready! 1. Make the transition back to an earlier bedtime. If you are like most families, bedtime in the summer tends to be a little later than during the school year. However, getting adequate sleep is an important step to start the year off right. But don't change the time all at once. Have your child go to bed 15 minutes earlier each night the week leading up...