• Mission
Today we recognize our very own Baxter's Corner customer, Lisa Hicklen. Lisa believes so strongly in our mission to help children develop social skills that promote positive social behavior that she has donated sets of our books to a variety of schools, churches, and community organizations that serve families--one of them being Christ Episcopal Church in Charlevoix, MI.  
---
• Mission

Happy World Civility Day! In this current culture of intolerance and social toxicity, we are encouraged to see that April 11th has been designated World Civility Day. We want to help make sure that everyone is aware of this opportunity in the hopes that they will participate in some small way. We believe that diligence in shaping the character and values of young children will go a long way toward refuting such unfortunate behaviors as bullying, disrespect, and even physical violence.  We created our books in response to the uncivil behavior we are seeing right here in our own community;...
---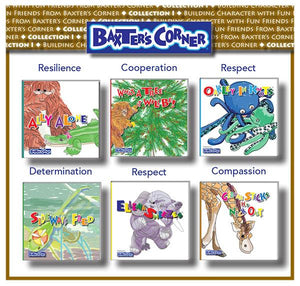 Special Introductory Price of $78.25Use Promotional Code: SML111518 at checkoutClick to Purchase Coping with an incarcerated parent...Standing up to bullies...Overcoming a physical challenge... These are just some of the situations Baxter's Corner book characters find themselves in as they work toward identifying positive solutions and making good behavioral choices. The first six illustrated books are now available as a Collection and for a limited time special offer only. Each book in the series introduces characters, who are part of the Baxter's Corner community, and highlights a specific behavioral theme such as respect, anti-bullying, compassion, perseverance and overcoming obstacles. The books...
---
• Awards • Education • Mission
Louisville, KY (September 6, 2018) – Baxter's Corner® is honored to announce that its collection of six children's books with matching products have earned the prestigious Gold Mom's Choice Award (MCA). Having been rigorously evaluated by a panel of MCA evaluators, the books have been deemed to be among the best educational products for families. The five Baxter's Corner books to earn the Mom's Choice Award for 2018 are Ellema Sneezes, Oakley in Knots, Sideways Fred, What a Tree It Will Be! and Ally Alone. The sixth book, Gerome Sticks His Neck Out, earned the Mom's Choice Award in 2017....
---
• Mission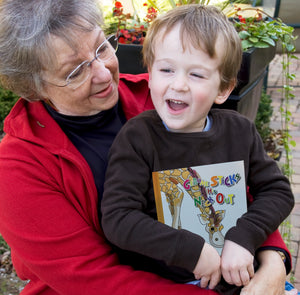 The Animals That Teach Kids About Making Good Choices
Our Goals for 2018