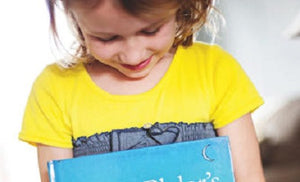 Baxter's Corner, was featured as part of "Derby City Storytime," in the April 13, 2017, edition of The Voice-Tribune. Reporter Tonya Abeln writes, "If you've ever found yourself muttering, "Kids these days…" you'll be thrilled with the mission of Baxter's Corner, a new Louisville-based company whose mission is to use creativity and storytelling to affect behavior choices. Their motto, "Building Character Is Child's Play," serves to open discussion between children and adults about values and ethical topics that challenge today's society." The recently released "Gerome Sticks His Neck Out," adds to that line of Baxter's Corner's values-based children's books. Gerome...
---
• Community Involvement • Education
It was all art, all the time, during 2017 Spring Break week when Baxter's Corner led an art camp for children ages 8 to 13 at The Cabbage Patch Settlement House in Louisville, Ky., which serves at-risk youth and their families.  This was the fifth camp that illustrator Mary Ellen Stottmann and author Linda Baker have led for The Patch. Together, Baker and Stottmann write and illustrate a series of children's books as partners of Baxter's Corner. "We love working with the kids at The Patch," said Ms. Stottmann, or Chief Crayon, her company title. "With the goal of inspiring budding young artists...
---
Learn more about how it all began in this feature article by Insider Louisville. In addition to the company's story, the article provides a peek at Gerome Sticks His Neck Out, the newest Baxter's Corner, scheduled for release later this year. "Each story focuses on an animal or insect as the main character and teaches some sort of lesson geared toward children pre-K to first grade. Each book also includes a Beyond the Storybook section that helps spark conversation between the adult reading the book and the child, plus gives informative facts about the animals, the lessons learned, etc. "It...
---
• Events
Thanks to all of the young readers, parents, grandparents, teachers and simply interested adults, for stopping by our table at the Mall St. Matthews last weekend, November 3-5.   Just in time for holiday gifting, Baxter's Corner will be at Oxmoor Mall in Louisville, Ky., December 15-17, with special offers on our book-puppet gift sets, canvases and wall decals. Plan to stop by our display in front of Starbucks.
---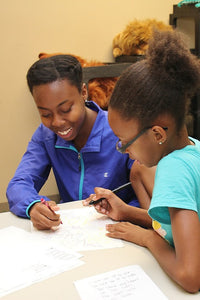 Baxter's Corner will be at Cabbage Patch Settlement House this afternoon for a publishing party to celebrate completion of a new story, Babies & Bananas, written by 12 participants of a week-long Young Storyteller Camp.                 The youth collaborated on the story and provided illustrations.  From the history of storytelling to the elements of a good story, the campers explored plot and character development, scene details, word choice and editing.                 Local author, Linda Baker (Chief Pencil) and illustrator, Mary Ellen Stottmann (Chief Crayon), co-owners of Baxter's Corner, led daily workshop sessions...