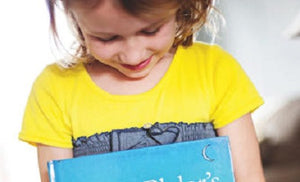 Baxter's Corner, was featured as part of "Derby City Storytime," in the April 13, 2017, edition of The Voice-Tribune. Reporter Tonya Abeln writes, "If you've ever found yourself muttering, "Kids these days…" you'll be thrilled with the mission of Baxter's Corner, a new Louisville-based company whose mission is to use creativity and storytelling to affect behavior choices. Their motto, "Building Character Is Child's Play," serves to open discussion between children and adults about values and ethical topics that challenge today's society." The recently released "Gerome Sticks His Neck Out," adds to that line of Baxter's Corner's values-based children's books. Gerome...
---
Learn more about how it all began in this feature article by Insider Louisville. In addition to the company's story, the article provides a peek at Gerome Sticks His Neck Out, the newest Baxter's Corner, scheduled for release later this year. "Each story focuses on an animal or insect as the main character and teaches some sort of lesson geared toward children pre-K to first grade. Each book also includes a Beyond the Storybook section that helps spark conversation between the adult reading the book and the child, plus gives informative facts about the animals, the lessons learned, etc. "It...
---
• News
Linda Baker of Baxter's Corner and Cabbage Patch Settlement House's Mayghin Levine join hosts Rachel Platt and Terry Meiners on Great Day Live Thursday, February 25, 2016, to tell WHAS11 viewers about GOING BANANAS IN SPACE. GOING BANANAS IN SPACE is a story written by 11 youth at one of Cabbage Patch's Young Storyteller camps. The story was initially presented as a booklet to campers with a few copies for Patch staff and board members. It was so well-received that Baxter's Corner professionally designed and printed the story for the Patch to sell to raise funds for youth services. The...